Our CUSTOMER SERVICE POLICY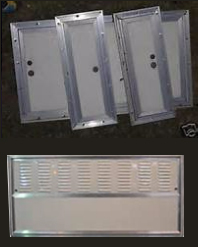 National RV Siding is a Custom Manufacturer of:
Recreation and Commercial Vehicle SQUARE CORNER ACCESS DOORS.
Every access door is custom built to meet individual customer specifications.
The turnaround time is 1 to 2 weeks.
Aluminum or Fiberglass (Filon) Doors can be single layer or insulated.
Doors are available in 20 COLORS AND TEXTURES.
Door frames come in White or Mill Finish
Or simply print the form, fill it out and fax to 1-587-786-6924.