Our CUSTOMER SERVICE POLICY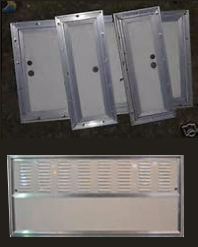 National RV Siding is a Custom Manufacturer of:
Recreation and Commercial Vehicle SQUARE CORNER ACCESS DOORS.
Every access door is custom built to meet individual customer specifications.
The turnaround time is 3 to 4 days.
Aluminum or Fiberglass (Filon) Doors can be single layer or insulated.
Doors are available in 20 COLORS AND TEXTURES.
Door frames come in White or Mill Finish
Call 1-888-443-4041 for additional information.
Or simply print the form, fill it out and fax to 1-780-455-0671.